Ben Oberg – Instagram Mastery 3.0
This Product also goes by the name Millionaire Mafia Instagram Training 3.0
WHAT IS INSTAGRAM MASTERY 3.0?
The Instagram Mastery 3.0 Program is a 4 week online program with the goal of starting an Instagram based business and getting it profitable as humanly possible and using Instagram to grow your existing business if you have one with step by step proven methods taught by an Instagram expert
Upon purchase you get access to the entire program which begins by showing you in a step by step format how to pick your niche, start an Instagram account, add 10,000 – 100,000 followers to it and monetize it in various ways. I have used their system before and it really works. It's easy to follow and laid out simply
This program then mainly focuses on using Instagram for your existing business if you have one, branding yourself as an expert and getting sales passively from Instagram.
​How to start your own six figure Instagram business in 30 days​
Four week online training that goes into everything in detail ​
Recorded videos, templates and worksheets that can shortcut your success by years ​
This is 100% beginner friendly. This program is designed to work for a total novice without any prior experience. Through the 4 week course you will get everything you need to grow Instagram accounts to 10,000 to 100,000 followers and then monetize them by using one of the dozen monetization methods we discuss.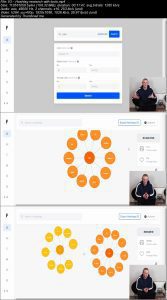 Please note this course is being sold from a reseller
Following are the modules included in this course

​Module 1 – Setting up your account
Module 2 – Content Mastery Part 1 ​
Module 2 – Content Mastery Part 2 ​
Module 3 – Art of the Algo
Module 4 – Ranking Content
Module 5 – Building a brand
Module 6 – DM groups & Powerlikes
Module 7 – IGTV
Module 8 – Instagram Stories
Module 9 – The Interaction Methods
Module 10 – The Fanpage Strategy
Module 11 – Ads
Module 12 – Influencers/Shoutouts
Module 13 – Social boosting/Exterior Engagement
Module 14 – Increasing Engagement
Module 15 – Growing an account for 0 to 10k LIVE
Module 16 – Top Instagram niches (repost accounts only: not for personal brands, businesses) & Hacks To Grow Each Niche
Module 17 – Paid Ways to Grow
Module 18 – Monetization (Ecom + 9 other ways)
Module 20 – Important tricks & hacks​
Module 21 – Instagram Tools & Apps
Other courses to look at: